I have stumbled upon another cute kawaii character design by Sugarhai. Sugarhai creates variety of kawaii characters such as Monsters, cupcakes & Sweets, Unicorns and many more. Sugarhai also selling products such as apparel, accessories, stickers, throw pillows, and more.
Let's check them out:
Unicorn: Everyone loves Unicorn!
Licorice Balloonicorn
Cupcakes: Oishi + Kawaii!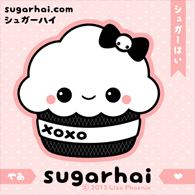 Hugs & Kisses Happy Blueberry
Monsters:
Rawr Monster Rainbow Monster
Fuzzies:
Banana Cat Mr. Kiti
Special _ Sugarhai Dark:
Popsiskull Bone Cone
Check out more kawaii characters by clicking the
character's set name or just visit Sugarhai website.
On to the next exciting part _ kawaii product by Sugarhai.
*Click on the image if you wish to buy.
*You will be directed to a Zazzle.com site.
*You can customize the product's color & style at
Zazzle and the cost is depend on your customization.
T-shirt: Each cost from $27.00 and up.
Keychains: Each cost $3.65
Pillows: $31.95

All the Sugarhai images/pictures ©Sugarhai

Image in the title from glitter-graphics
I hope you enjoy reading and seeing all
these Sugarhai kawaii chara & items.
You can visit their website here:
SUGARHAI
Thank you and have a wonderful weekend!